Administrative Transaction E-Docs

 >

 >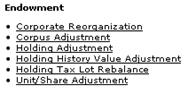 Several administrative e-docs are available to support the Endowments module. These e-docs, which are available from the Administrative Transactions submenu on the Main Menu tab, allow your institution to accommodate corporate reorganizations, various adjustments in and value, and tax lot rebalancing.
e-docs available from the Main Menu, Administrative Transactions submenu
 

Description

Corporate Reorganization (ECR)

Allows you to record the conversion of shares of one to shares of another as a result of a corporate action (corporate spinoff, change, merger, buyout, etc.).

Corpus Adjustment (ECA)

Allows you to record a change in the corpus value of a that is deemed necessary due to receipt of additional information after the corpus value was recorded in the system.

Holding Adjustment (EHA)

Allows you to adjust the of a security held by a without affecting the number of units that make up the holding. These adjustments affect the KEMID balances and, therefore, are reflected on the .

Allows you to update the of a record or of records in the holding history table with a single entry.

Holding Tax Lot Rebalance (HoldingTaxLotRebalanceMaintenance-document)

Allows you to you to edit the tax lots held by a KEMID.

 

Unit_Share Adjustment (EUSA)

Allows you to change the number of units of a security held by a KEMID without affecting the original cost or carry value of the security tax lot(s).
More: