Routing
The does the following types of :
•      Internal Purchasing Review: Triggered if the dollar amount of the PO exceeds the dollar amount for the associated ( Delegation Dollar Amount field on the Contract Manager table) and the person submitting the order is not in the Contract Manager .
•      Commodity Code Review:  This route level is triggered if a commodity code on any line has been added to the Commodity role.
•      Review: Triggered if any grant accounts are used in the Items section of the PO and the string contains an that exists in the either the 'CG ROUTE OBJECT CODES BY CHART' or 'CG ROUTE OBJECT LEVELS BY CHART' parameters. The PO document routes to the C&G Processor role with the tied to Contracts and Grants accounts.
•      Budget Office Review: If the PO is for the current , all accounts used on the document are checked to see if any of accounts use checking. If the encumbrances from this order would cause these accounts to have insufficient funds, the PO document routes to the Budget Reviewer role for approval.
•      Tax Review: If the vendor used on the PO is a foreign vendor or the vendor's tax number matches a tax number if the employee table, the document routes to the Tax Manager role.
•      Document Transmission: If the document is an , an is generated to the of the document. If the document is not an APO, an FYI is generated back to the who submitted the PO.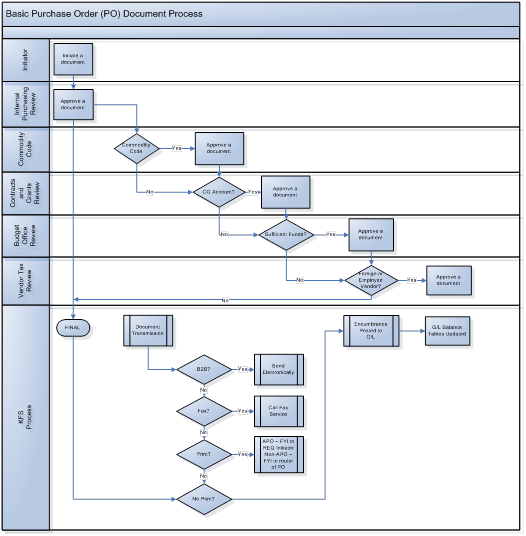 More:

Processing a PO Document