Levels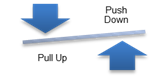 Organizational levels are built automatically from your based on the Reports To field in the table. Each of Budget Construction is placed somewhere in the organization hierarchy when the user's is assigned. As soon as a user opens a , his or her level is displayed in the BC document, and this indicates how many levels he or she can pull up or push down the document.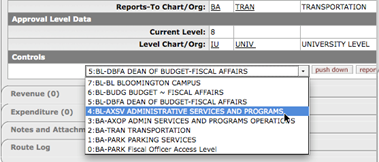 For example, if the BL-1031400 belongs to the Psychology (PSY) department, which reports to the Arts and Science School (ARSC), which reports to the Bloomington (BL), which ultimately reports to IN-UNIV (Indiana University), you may place BC processors at each level of the organization as shown in the organization tree on the right.
Then each BC processor can pull up and push down the BC document for the levels they are assigned to.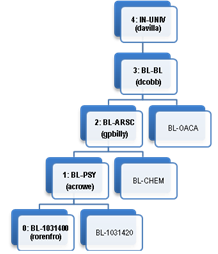 The following summarizes the activities each user shown in the figure above can perform based on the organization hierarchy.
User capabilities at each level of the sample organization
Level

Description

 

Role

Actions

0

Account Level Update Access

rorenfro

Can use my accounts

Can update the budget for the accounts

Can use account reports

Can import non-compensation budget

1

BL-PSY: Psychology

acrowe

BC Processor
(BL-PSY)

Can use my organization

Can pull up from rorenfro.

Can import non-compensation budget

Can use organization reports

2

BL-ARSC: Arts and Science

gpbilly

BC Processor
(BL-ARSC)

Can use my organization

Can pull up from or push down to rorenfro or acrowe.

Can import non-compensation budget

Can use organization reports

3

BL-BL: Bloomington Campus

dcobb

BC Processor
(BL-BL)

Can use my organization

Can pull up from or push down to rorenfro, acrowe, or gpbilly

Can import non-compensation budget

Can use organization reports

4

IU-UNIV: University Level

davilla

BC Processor
(IU-UNIV)

Can use my organization

Can pull up from or push down to rorenfro, acrowe, gpbilly or dcobb.

Can import non-compensation budget

Can use organization reports

Can unlock documents

Can load union pay rates
More:

Budget Construction Security Model (Locking)