Initiating a POA Document
1.     Search for the you want to amend from the PO search screen. Open the PO.
2.     Click

 to make changes to the existing PO.
3.     Enter a reason explaining why you are amending this PO.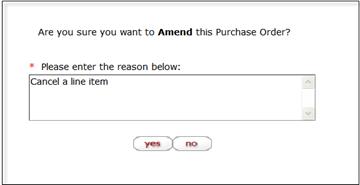 4.     Click

.
The screen refreshes and a new () is assigned. The PO becomes 'Pending Amendment'.

5.     Click the

 button on the Item tab and click the show button on the item you want to amend.
6.     Modify the PO .
7.     Click

.
More:

Working with the POA Document