Importing/Exporting Pay Rates ("Union Load")
Payrate Import/Export is a tool used to update salary rates for union member employees. Export creates a spreadsheet file containing the set of appointments associated with a particular union. The file is then updated, either through a manual or automated process, with the desired hourly rate based on the negotiated salary rates for the set of employees. You then import the adjusted file to update the annual request and hourly rate amounts in the BC Pending Appointment Funding table. This allows you to efficiently update the union worker's funding line at the last minute.
The payrate import/export button appears only for the root level in the Budget Construction Salary Setting/Report/Control section of the Budget Construction Selection screen.

     Any documents to be updated must not be locked. Additionally, the system must in edit mode.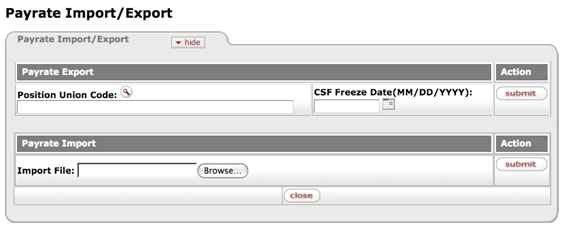 Exporting pay rates
| | |
| --- | --- |
| Field | Description |
| Position Union Code | This is the value in the BC Position table field called Position Union Code. It allows the to select/update a of positions managed under a particular union contract. |
| Freeze Date | A reference date indicating when the CSF annual rates were last updated. Usually this date corresponds with the date on which the flag in the table was set to 'N', but it can be any date that helps determine the correct rate increase with respect to payroll synchronization timing issues. |
To export pay rates:
1.     Click

.

2.     Enter the position union code and CSF freeze date and click

.

The system exports the payrate file to your desktop.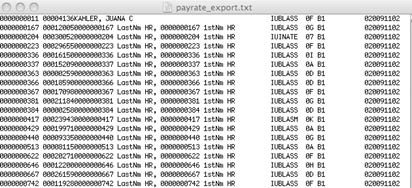 More:

Importing Pay Rates