Lock Monitor
Lock monitor is a function that allows you to view existing locks held by users. The unlock action can be taken only by the root level , and the unlock button is displayed only to BC Processors at the top level of the hierarchy.

    The release-locks functionality should be used judiciously. Clearing a lock could destroy a user's current editing session.

To release a lock, follow these steps:
1.     Click the

 button.

2.     Click

 by the record you want to unlock.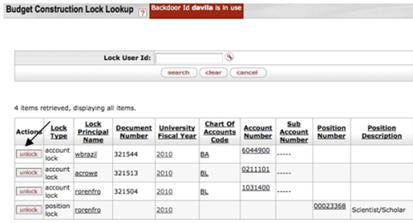 3.     Click

 when the warning is displayed.

4.     Note the .

More:

Importing/Exporting Pay Rates ("Union Load")