Donor Statements Tab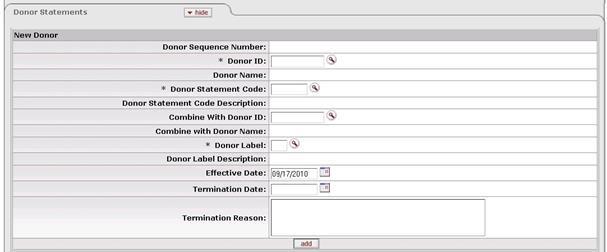 This tab identifies the donors who are to receive annual statements for the . The information is used for the purpose of creating the periodic or annual statements.
Use of this tab is not required for any KEMID record. If you choose to use it, you may add one or more Donor Statement records to a KEMID.
Donor Statements tab definition
| | |
| --- | --- |
| | Description |
| Donor Sequence Number | Display only. The system-assigned sequence number for this record. |
| Donor ID | Required. The unique identifier for this donor. Enter an existing ID or use the lookup  to find it. |
| Donor Name | Display only. Your institution's name of record for the donor. |
| Donor Statement Code | Required. Your institution's code that identifies the type of statement the donor wants to receive. Enter an existing code or use the lookup  to find it. |
| Donor Statement Code Description | Display only. Your institution's description of the code specified. |
| Combine With Donor ID | If statements are to be sent two donors (such as a husband and wife) jointly, the ID of the other donor to whom statements are to be addressed. Enter an existing donor ID or use the lookup  to find it. The value entered cannot be the same as the value in Donor ID. |
| Combine with Donor Name | Display only. Your institution's name of record for the donor specified in the Combine With Donor ID field. |
| Donor Label | Required. Your institution's code identifying the appropriate prefix or prefixes for the donor's mailing label. Enter an existing label code or use the lookup  to find it. |
| Donor Label Description | Display only. Your institution's description of the label specified. |
| Effective Date | The date on which this record is to take effect. Defaults to the current date but you may enter another date or select it from the calendar . |
| Termination Date | The last date on which this record is to be in effect. Enter the date or select it from the calendar . After this date is reached, the record is available for viewing but cannot be changed. |
| Termination Reason | The reason why the donor statement is no longer being sent. |
More:

Endowment Corpus Values Tab