Accounts Receivable
>
Administrative Transaction Documents
>
Billing Statement Generation
Results
After you enter lookup information, the system generates a .pdf file.
•      Automated the delivery of the Accounts Receivable monthly Billing Statement upon generation by AR users to receive the specific pdf via an email when they are completed as time saving for users by Customer Source Code. Email includes:
o      Customer Source Code in Subject Line: Dynamic Type (INVOICE, SUMMARY and/or DETAIL) STATEMENT_RPT
o      Email will be sent only for Invoice Generation and or Bulk Detail/Summary Statement generation for Customer Source Code. Not applicable for Customer, Account Number/etc.
o      All fully paid invoices will populate the Reported Date in the EDW as a way to improve performance for Customer Detail Statement generation from future calculations.
•      The Billing Statement Generation listing the invoices outstanding available in two options.
1.      Customer Summary Statement Detail format shows the entire organization or specific customer's account (summary) activity within the KFS accounts receivable.
Example: Customer Summary Statement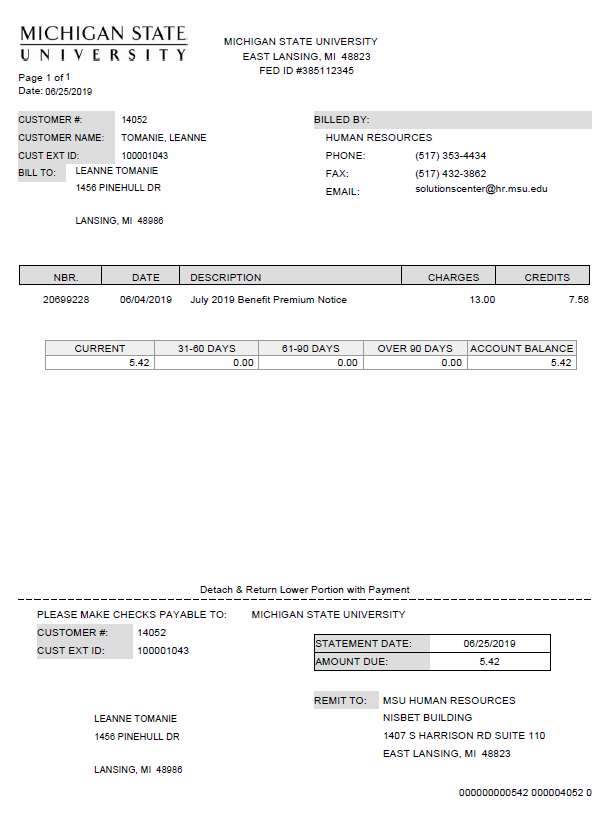 2.      Customer Detail Statement format shows the customer's account activity.
o      Customer Source Code by for the three Administrative Transactions section for Accounts Receivable in zipped format:
1.      Customer Invoice Generation Pdf
2.      Customer Detail Billing Statement Generation Pdf
3.      Customer Summary Billing Statement Generation Pdf
o      Customer Detail Statement Detail: - Current Customer Source Code logic is to display as follows:
1.      Invoice/Payment for Charges and Credits columns fully paid will display in summary style (side by side) most recent. Only fully paid invoices would be considered.
2.      Any OPEN invoices not fully paid will continue to display on separate line until future payment activities. Credit memo and/or write offs per b. identified below:
3.      Most recent new invoice (OPEN) charges.
4.      Any Unapplied amounts.
DocType

 

NBR

Dated

Description

Charges

Credits

Invoice

 

15859976

06/04/2018

June 2018 Benefit Premium Notice

420.65

420.65

Invoice

 

15861257

06/12/2018

June 2018 Benefit Premium Notice

420.65

-

Credit Memo/Invoice Write off

 

18007548

08/31/2018

Moved to BCBS 09/01/18 turns 65

509.18

Invoice

 

17198252

06/13/2018

Spouse Medicare 6/1/2018; switched from BCN to BCT 6/1/2018 eff date.

-449.64

0

Unapplied

 

15861258

06/12/2018

Remaining Customer Credit Balance

25
a.      Open invoices will display on separate line
b.      Credit Memo and or Invoice Write off (displays on separate line until Invoice is fully paid)
c.      Invoice Error Correction (displays on separate line)
d.      Unapplied line will always displays as last line if applicable
Example 1: Customer Detail Statement - Invoice/Payment with most recent side by side along with unapplied amount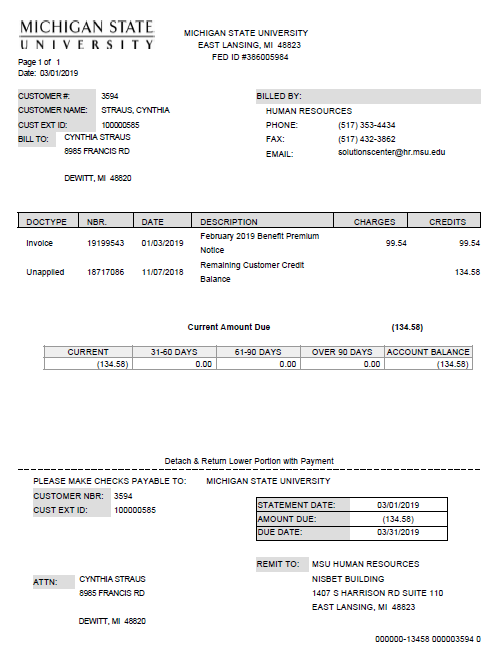 Example 2: Invoice/Payment with most recent side by side along with open invoice and partial payment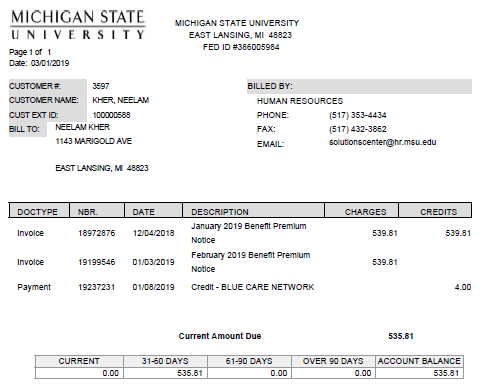 More:

Customer Invoice Generation