Routing
The must route through a series of approvals before the disbursement is actually made based on the rules set up by the institution. Due to its unique nature, the DV document has some special issues which are explained below:
•      The DV document first routes to the for each in the Accounting Lines tab.
•      After it has been approved by all required fiscal officers, the document routes, as specified by the institution's rule, to the review routing level.
•      After the document has been approved by all organizational approvers, the DV document goes through any special routing as required by business rules surrounding the attributes of the transaction and the .
The becomes 'FINAL' when the required approvals are obtained and the transaction is by the institution defined process, which might include the .

   For information about the Pre-Disbursement Processor, see Pre-Disbursement Processor.
| | |
| --- | --- |
|   | Special Routing |
| Payee is an employee paid outside of payroll (Payee tab) | |
| Payee requires backup withholding (determined by the presence of backup withholding dates on the record) | KFS-SYS Tax Manager role |
| Payee identified as being a nonresident alien (determined by the Nonresident Alien? option on the Payee tab) | KFS-SYS Tax Manager role |
| Payment reason (Payment Information tab) is 'Travel Payment for a Nonemployee' or 'Travel Payment for Prepaid Travel' | KFS-FP Travel Manager |
| Payment reason is identified as a Moving Payment Reason (such as 'Moving Reimbursement') | KFS-SYS Tax Manager role |
| Initiator's | approval by members of the KFS-FP Disbursement Manager role for the appropriate campus. Campus is based on the campus associated with the initiator's KFS-SYS role |
| Payment Method (Payment Information tab) is Wire Transfer | KFS-FP Disbursement Method role members associated with Payment Method 'W'. |
| Payment Method is Foreign Draft | KFS-FP Disbursement Method Reviewer role members associated with Payment Method 'F'. |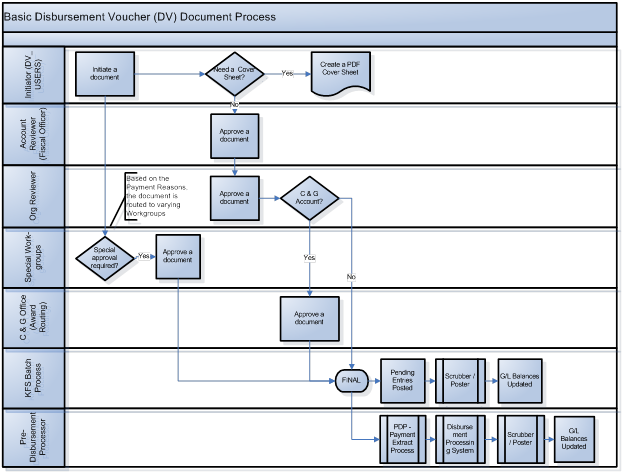 More:

Initiating a DV Document