Common Features and Search Options
The following example shows the lookup screen for invoices.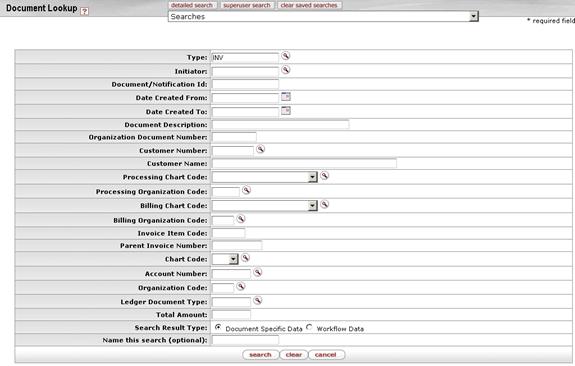 In the example above, the selected Invoices from the Custom Document Searches menu on the Main Menu tab. This screen includes the INV pre-populated in the Type field. It also contains other fields you may want to use as search criteria in your search for one or more specific invoices.
Each search screen gives you options for two search results types.
•      Document Specific Data: In the search results, display information specific to the document(s).
•      Data: In the search results, display information specific to the workflow of the document(s).

To search for specific documents, follow these basic steps:
1.     To restrict the search to documents that meet criteria of your choice, enter search data as appropriate.
2.     If desired, this set of search criteria for reuse later by entering a descriptive name in the Name this search field.

     For information about specific fields, see the help documentation for the particular type of document you are searching for.

     For tips about data entry, see Data Entry Tips.
3.     Click the

 button at the bottom of the screen.
The system retrieves a list of that match your search criteria.

If you gave your search criteria a name, the system also displays the name of your search in the Searches list at the top of the screen.
4.     Choose from among these options.
•      To sort the list, click on the header you want to sort on. Click once to sort in ascending order and click again to sort in descending order.
•      Some cells (such as those in the column in the example above) have links to screens that display more detail. Click the link to display detail.
•      To export the entire list in ., spreadsheet, or . format, scroll to the bottom of the screen and click a link to choose from among these options:

•      After finding the document you want, click the link for it in Document/Notification Id column. The system displays the document.
More:

Data Entry Tips