Address Tab
The Address tab collects address information for a . Different types of addresses may be entered, such as one for mailing purchase orders and another for remittance of payments. Vendors of a particular type may be required to have at least one address of a certain type (such as at least one 'remit to' address). Every vendor must have one default address.
After entering an address, click

 to add it to the .

   For more information about adding multiple addresses, see 'Collections'.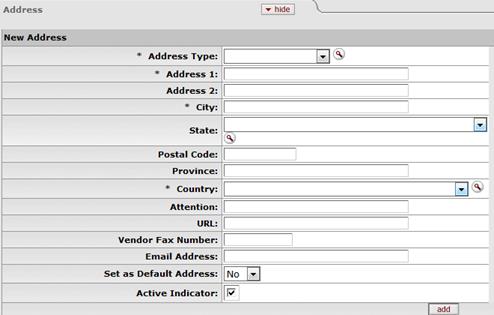 Address tab definition
| | |
| --- | --- |
|   | Description |
| Address Type | Required. Select an address type from the Address Type list or search for it from the Address Type lookup . |
| Address 1 | Required. Enter the first line of the address information. |
| Address 2 | Optional. If necessary, enter the second line of the address information. |
| City | Required. Enter the city name for this address. |
|   | Optional. Select the state from the State list or select it from the State Code lookup . State may be required under certain circumstances (such as when entering a US address). |
|   | Optional. Enter the postal code for this address. Postal code may be required under certain circumstances (such as when entering a US address). |
| Province | Optional. Enter the province for this address. |
|   | Required. Select a country from the Country list or select it from the Country lookup . |
| Attention | Optional. Enter to whose attention it should be directed to, if you want this address to have an attention line. |
|   | Optional. Enter a URL you want to associate with this vendor address. |
| Vendor Fax Number | Optional. Enter the vendor fax number you want to associate with this address. |
| Email Address | Optional. Enter the vendor email address you want to associate with this address. |
| Set as Default Address | Required. Select 'Yes' or 'No' from the list to indicate if this address should be used as the default for this vendor or not. Every vendor must have one default address. |
|   | Required. Select the check box if the address is active. Clear the check box if it is inactive. |
More:

Contact Tab