Standard Reports
As delivered, the provides access to a number of standard AR and effort certification reports as well as several standard system reports.
Reports submenu
| | |
| --- | --- |
| Menu | Description |
|   | Allows for retrieval of for billing statement, aging, and customer invoices derived from data within the KFS. |
| Effort Certification | Allows for retrieval of standard effort certification reports including Duplicate Certification Report, Effort Certification Extract Build, Outstanding Certification by /Report, and Outstanding Certification by Report. |
| System | Allows for retrieval of standard system reports including Labor Transactions, Account , Account Transactions, Consolidated Account Status, Consolidated Status, and Carry Forward Summary, and Trial Balances. |
These reports may be used for monitoring account conditions throughout the year. It is up to each implementing institution to determine the best method for scheduling, running, viewing, and distributing reports.

     Technical Documentation: Refer to KFS technical documentation for more information regarding database queries, processes and reporting output format possibilities. Report scheduling and archiving functionality is out of scope as of this publication. Other report types falling under the umbrella of KFS reports, such as Monthly Reports, Operating Statement, Labor Detail, Financial Position, Statement of Activities, Balance Inquiries (through the Nervous System module) and hoc reporting generation capabilities are not included in the KFS, but are configurable as institution-specific additions to these standard reports.
Standard reports are made up of three main sections:
•      Header Information: The header contains information concerning the identification of the report and management of the account (for example, the name of the , , , account number, and the of the report).
•      Report ID: The report ID is a unique ID assigned to each of the standard reports.
•      Column Headings: The column headings identify the contents of the columns directly below them.
•      Content: The report is separated into sections identifying the content (or data displayed therein) of each table (for example, tables might include columns for revenues, expenditures, assets, liabilities, balances, and rows for subtotals and totals).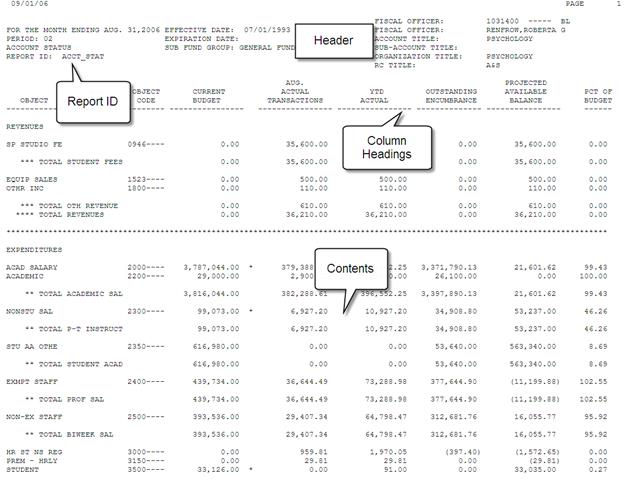 Depending on the type of report and your institution's configuration, the report can be viewed, printed, and for your records and future reference. The native format (indicated by corresponding file extension) of the report may be viewable with compatible software, such as Text (.TXT), Portable Format (.PDF), MS Word (.DOC), MS Excel (.XLS) or Comma Separated Values (.).
More:

Batch Upload Basics