Setting a Payment for Immediate Print
Payments that have not yet been formatted may be marked for immediate printing. 'Immediate print' payments ignore the value and are eligible for disbursement the next time payments for this are selected for formatting. Immediate print payments, which may be selected for formatting separately, always appear at the beginning of the check file the creates. This is a reversible action.

   For more information about reversing this action, see Removing Immediate Print.
Users with the -PDP Processor may mark payments for immediate printing.
1.     Search for the payment and click the Set as Immediate link.

2.     Enter a note indicating why this payment is being flagged for immediate printing.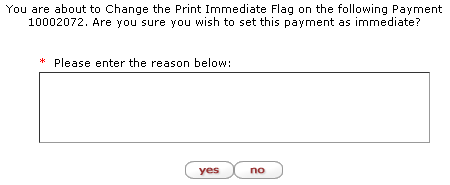 3.     Click

.
More:

Removing Immediate Print