Copyright and Licensing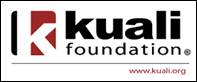 ® is a registered trademark ™ of the Trustees of Indiana University.
The has established a set of intellectual property management practices to protect the foundation, its members, and the extended Kuali community.
The Kuali Foundation uses various licenses to distribute software and documentation, to accept regular contributions from individuals and organizations, and to accept large grants of existing software products.
The sections that follow explain Kuali copyright information as it pertains to the following three licensing areas:
•      Software licensing
•      Contributor licensing
•      Documentation licensing
Intellectual Property Contact Information: If you have any questions about Kuali intellectual property, please contact the Kuali Foundation at licensing@kuali.org.
More: