Adding Appointment Funding
You may add a new appointment funding from the accounting line in the Position Funding section. To do so, follow these steps:
1.     the position funding information. The minimally required fields are , , Object, Amount, Months, and Percent Time. The value is automatically filled when you enter the percent time.

2.     Enter the employee ID for the incumbent or use the lookup

 to find it.
The system populates the Cls field automatically.

3.     Click

.
The system adds the incumbent to this funding line, and the vacant and delete buttons become available.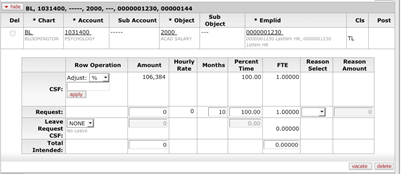 4.     Observe the indicating that the salary setting was successfully . Watch out for the warning displayed in the top left corner.

The Adjust: % /Flat tool allows you to apply a flat amount or a percentage increase or decrease to one or all the funding lines. The tool is displayed only when the line is editable and the funding line has a base budget in . To use the tool, follow these steps:
1.     Select the type of change desired from the list and enter the amount.

2.     Click

.

The system automatically calculates the new amount and the hourly rate.

3.     Click

.
More:

Making Appointment Funding Vacant