Access Security

 >

 >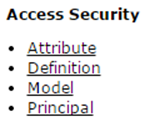 The Security submenu provides access to screens in which you define criteria for and accounting line security based on accounting line attributes.

     Modules that rely on -based module security—that is, the Budget Construction, , and Capital Assets modules—are  not affected by settings in these creens. In these modules, organization-based security always controls access.
Security submenu group
| | |
| --- | --- |
| Document | Description |
| | Defines security attributes that may be used to place restrictions on user access. |
| | Defines security rules (definitions) that may be assigned to a security model or . |
| | Defines security models—that is, collections of security definitions having specific operators and values and assigns them to roles, groups, and/or principals. |
| | Associates security models and individual security definitions with specific principals. May be used to define security rules for principals. |
All users may look up valid values in these documents, but only members of the -SYS Technical Administrator or KFS-SYS Manager roles may , edit and create new records via these documents. These documents do not route for approval.
More: